1 / 8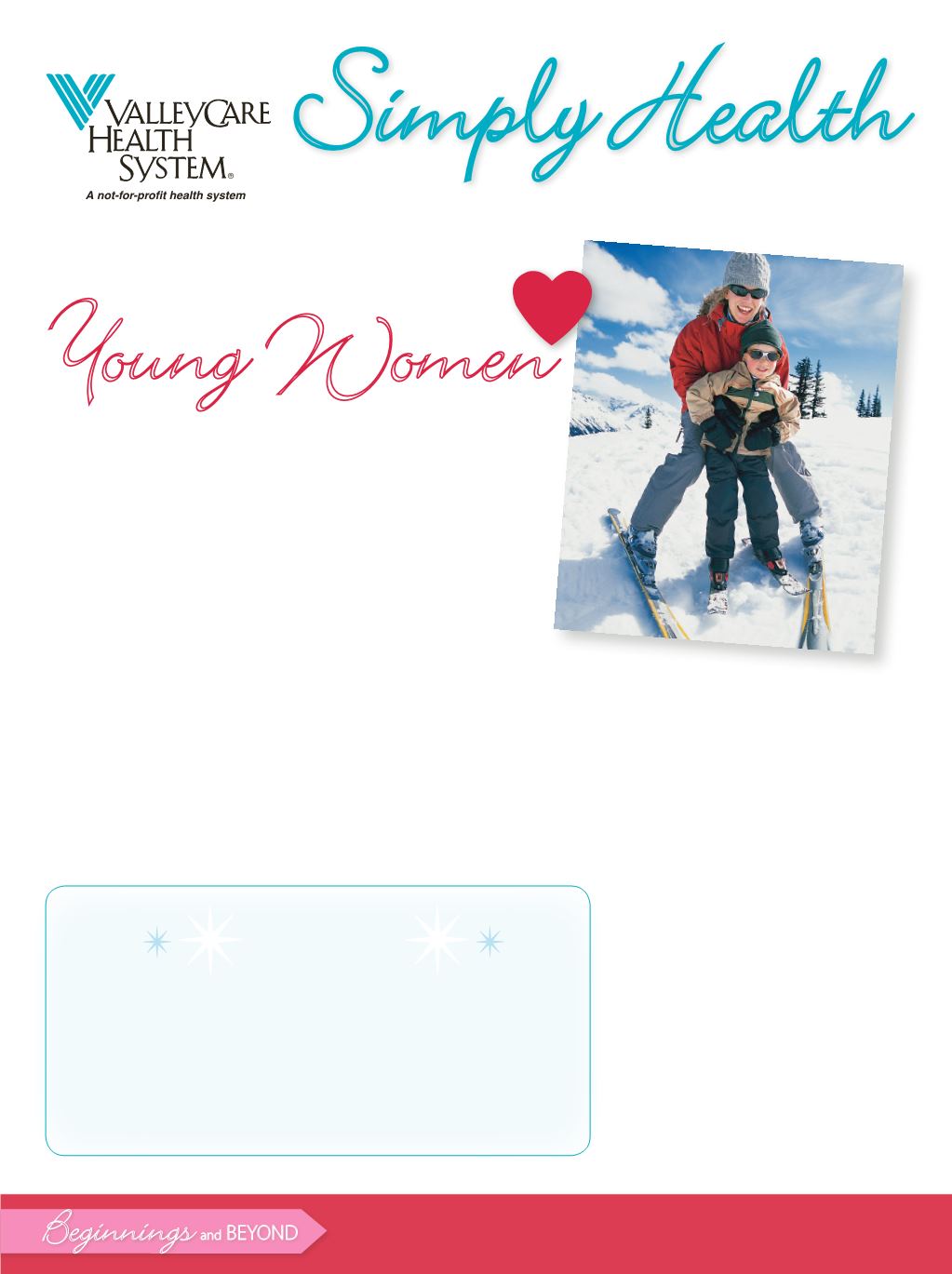 PLATINUM AWARD
ValleyCare Health System received the American College of Cardiology's
NCDR ACTION Registry–GWTG (Get With The Guidelines)
Platinum Performance Achievement Award for 2014. ValleyCare is one of
only 256 hospitals nationwide to receive the honor. The award recognizes
ValleyCare Health System's success in implementing a higher standard
of care for heart attack patients and signifies that ValleyCare has
reached an aggressive goal in treating these patients.
p.
4
BREASTFEEDING CHALLENGES
 | 
p.
7
Q&A: COLONOSCOPY
Beginnings
BEYOND
and
—Continued on page 2
I
f you were a woman in your 30s
or 40s, in fairly good shape, raising
a family and working, would you
even consider yourself a candidate
for a heart attack? Probably not. Why
would you?
That was the situation for Sarah
Vega, age 39, of Pleasanton who, along
with her husband, is raising their
6-year-old son, is in good shape and
works full time for a software company.
Sounds pretty normal and not at all
a heart attack candidate. However, she
awakened early one morning last May
in a cold sweat and feeling breathless.
Not quite sure what was going on, she
got up, took some aspirin and when
looking in the mirror, noticed she was
ghost white.
IN DENIAL
"I went back to bed, but was
so uncomfortable I couldn't go
back to sleep, then both arms
started to tingle. That's when I
woke my husband," says Vega.
"You really are in denial about
it being a heart attack, but I
felt so uncomfortable I knew
something wasn't right, so
my husband called 911."
When the paramedics arrived, they
initially thought she was having some
sort of panic attack because of her
good health and age. But, once they
got her hooked up to the monitors,
they realized it was a heart attack and
started wiring the monitor reports to
the ValleyCare emergency room.
"They were ready and waiting
for me at ValleyCare, and after a
couple of blood tests, I was in the
cath lab where they found my LAD
(left anterior descending artery—
commonly called the 'widow maker')
was 100 percent blocked," Vega
explains. "After putting in a couple of
stents, believe it or not, I was back
home late the next day and have been
doing great ever since!"
NO RISK FACTORS
According to statistics from the Heart
Foundation, each year 435,000 U.S.
women have a heart attack. Of these,
35,000 under the age of 55 die. ValleyCare
Cardiologist Ramford Ng, MD, says: "One
is never too healthy or too young to have
a heart attack. We never discount the
forWomen
Simply Health
HEART ATTACK
www.valleycare.com
|
Winter 2015
Y
oung
W
omen
in