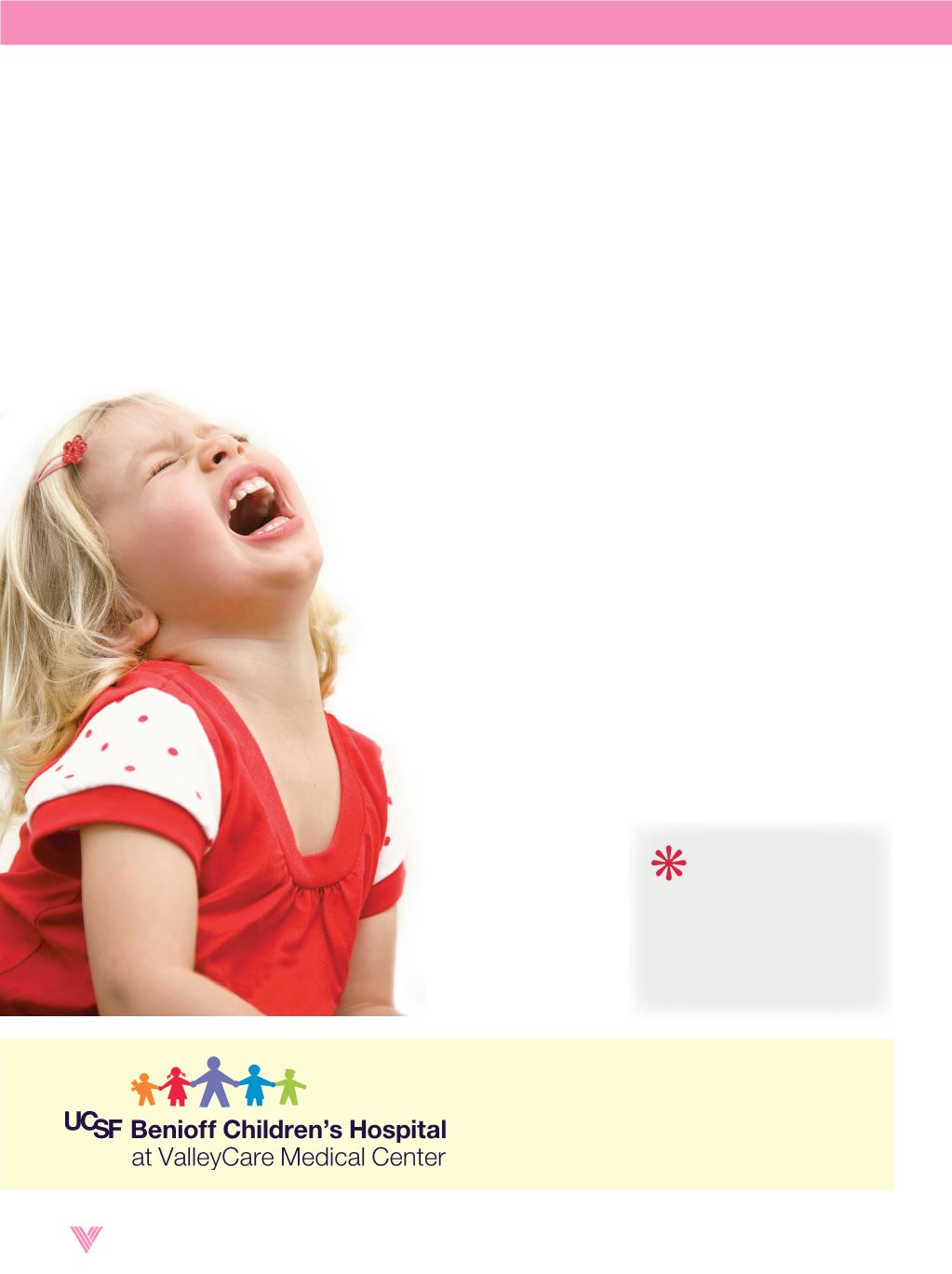 Taming
TANTRUMS
F
rustration can get the best of even
the most levelheaded adult. But,
when toddlers feel frustrated,
they're not as well-equipped to keep
their emotions controlled.
Until they learn better ways to deal
with their feelings, it's not uncommon for
children of this age to have occasional
meltdowns. In the meantime, your
toddler may display a rather alarming
array of behaviors—such as screaming,
kicking, pounding, writhing on the floor,
or holding his or her breath—to express
intense displeasure.
PREVENTING A STORM
When your child throws a tantrum,
you may feel as though you've lost
control.
Here are few
TIPS
to temper
the tantrums:
w
Phrase requests as
invitations instead of
commands.
w
Don't overreact to your
toddler's"No."Don't
automatically punish your
child. Instead, repeat your
request clearly. A no often
means,"I want control,"
"I need time to think it
through" or "I want to see
if you're serious."
w
Choose battles wisely.
Insist on priorities, such
as staying buckled in a
car seat or staying out of the street. But
whether your child eats peas or bananas
first probably isn't worth a battle.
w
Offer choiceswhen appropriate. Let your
child choosewhichpajamas towear or
what book to read. Doing sowill help
foster independence. Be careful not to
confusewith toomany choices; offer two
options and let your child choose.
w
Don'tmake deals anddon't offer choices
when there are none. Don't offer treats for
cooperatingwith nonnegotiable things,
such as bathing, bedtime and safety.
w
Avoid situations that often start
tantrums. Break the cycle of grocery
store tantrums by getting a sitter.
w
Give plenty of attention when there is
good behavior.
TAKEADEEPBREATH
If you cannot stay calm, it is best to leave
the room. And remember that humor
can save the day. Your child is more likely
to be distracted into obedience if you
temper firmness with a bit of fun.
Source: American Academy of Pediatrics
For more parenting tips,
visit the ValleyCare Health
Library at 5725W. Las Positas
Blvd., Suite 270, in Pleasanton.
Knowledgeable volunteers can
help you find a wealth of
information on this or any topic.
Call
925-734-3315
.
UCSF ANDVALLEYCARE'S COLLABORATION
provides advanced medical care in our own community.
UCSF Benioff Children's Hospital is consistently ranked
among the
nation's top children's hospitals
by
U.S.News &
World Report
.
Staying CalmWhen
Your Kid Throws a Fit
ValleyCare.com/maternity | Winter 2015