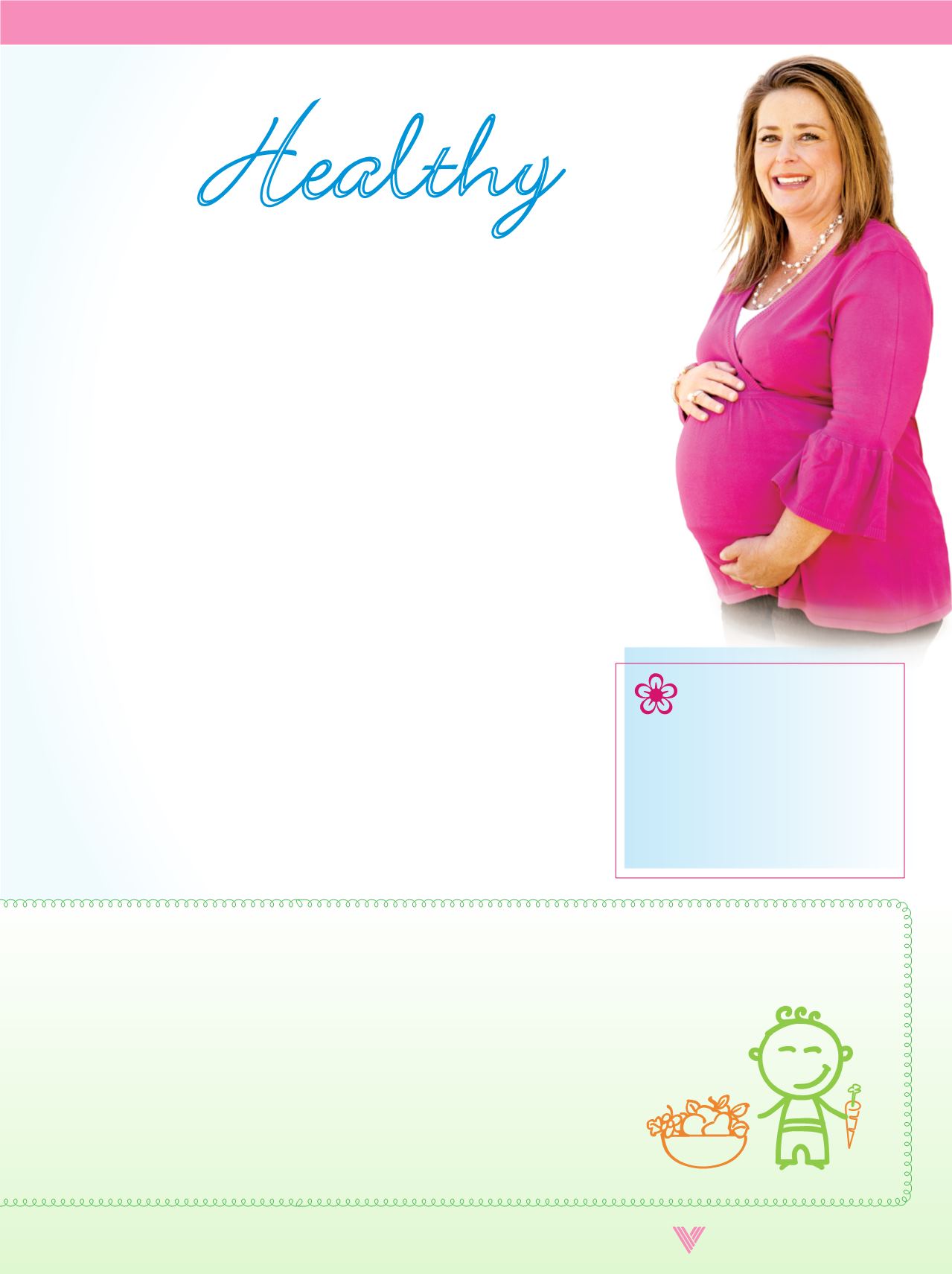 I
f you are thinking of starting a family
but are overweight or obese, you
should consider losing the extra weight
before you conceive.
According to a recent study reported in
the
BMJ
, one of the strongest risk factors
for diabetes during pregnancy (called
gestational diabetes) is being overweight.
Research shows that obese or overweight
women have more than four times the risk
of getting gestational diabetes.
WHAT HAPPENS?
Gestational diabetes occurs when
your body can't make enough insulin
during pregnancy. Because your body
goes through so many changes during
pregnancy, including weight gain and
increased hormones, your body tends
to use insulin less effectively and can
become insulin-resistant. If your pancreas
can't make enough insulin, you will get
gestational diabetes. If you are overweight
going into pregnancy, your pancreas may
already be working overtime.
GESTATIONAL DIABETES
Getting
Healthy
Before Pregnancy
Can Reduce Risk
Although gestational diabetes usually
goes away after delivery, it's still a serious
condition. If the disease isn't controlled
properly, you run the risk of having
dangerously high blood pressure and/
or an increased birth weight of the baby,
making delivery difficult. In addition, the
baby may have breathing problems, and
he or she has a higher risk of becoming
obese or developing diabetes.
TESTINGDURINGPREGNANCY
Typically women are tested for
gestational diabetes between 24 and
28 weeks of pregnancy by a simple blood
test. If you're at higher risk, your doctor
may test earlier.
ValleyCare's antepartum testing center
can offer peace of mind to expectant
parents by using the latest technology
coupled with the expertise of trained birth
center nurses. Testing is offered on an
outpatient basis by physician referral.
Sources: American College of Obstetricians and Gynecologists;
BMJ
; National Institutes of Health
If you do find yourself with
gestational diabetes,
ValleyCare's Sweet Success program
offers education and support. Certified
instructors help you control your
glucose levels and reduce
complications of pregnancy. For more
information, visit
valleycare.com
or
call
925-416-6710
.
*
Apple slices with peanut butter
dip:
Mix together 1 tablespoon
unsalted natural peanut butter, 1
teaspoon real maple syrup, and ¼
teaspoon ground cinnamon. Serve
with apple slices for dipping.
*
Un-fried cheese stickwith
marinara:
Part-skimmozzarella
cheese stick and 1/4 cup marinara
sauce for dipping.
*
Parmesan popcorn:
Lightly spray air
popped popcorn with olive oil and sprinkle
with parmesan cheese.
*
Veggiemini pizza:
Toast half of a whole-
grain English muffin. Drizzle with marinara
sauce, part-skimmozzarella cheese and
veggies of choice. Broil until cheese melts.
*
Homemade trail mix:
Mix together raw
almonds or walnuts, dried cranberries,
raisins, and high fiber cereal pieces.
*
Waffle it:
Fill a waffle cone with
cut up fruit and top with low-fat
yogurt.
ValleyCare.com/maternity