8 / 8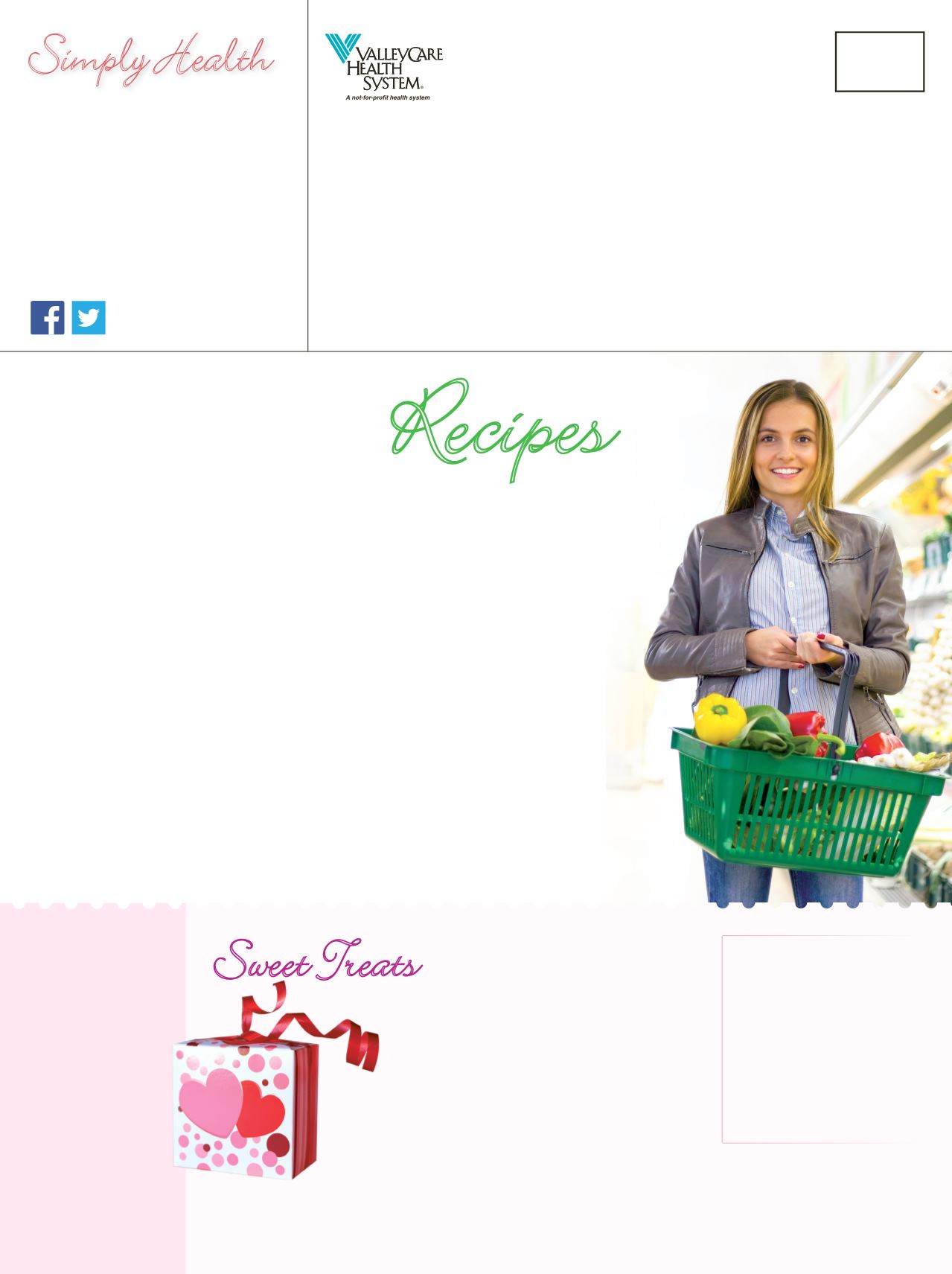 ValleyCare Gift Shop has the perfect gift
SimplyHealth forWomen
and
BeginningsandBeyond
are published
byValleyCare Health System.The information is intended to
educate women about subjects pertinent to their health, not
as a substitute for consultation with a personal physician.
To stop receiving this free publication, please email
marketing@valleycare.com.
© 2015
CMM30828
Scott Gregerson
CEO
William Phillips, MD
Chief of Obstetrics/
Gynecology
Like us on Facebook.
Follow us on Twitter.
Facebook "f"Logo
CMYK / .ai
forWomen
Simply Health
1111 E. Stanley Blvd.
Livermore, CA 94550
Nonprofit Org.
U.S. Postage
PAID
ValleyCare
Health System
D
o your meals need a makeover?
Should you start revitalizing your
recipes? Eating healthy each day may
seem like a daunting challenge, but according
to ValleyCare Registered Dietitian Molly Russo,
there are many substitutions you can make
in recipes to help you lower fat or sodium,
decrease sugars, or add vitamins or minerals.
She suggests trying some of the simple
changes below.
●
Replace each egg in your recipe with ¼ cup
of cholesterol-free egg substitute.
●
When baking, try substituting½ cup of
applesauce for 1 cup of oil, margarine or butter.
●
Preparing pancakes? Switch out the maple
syrup, and serve up some strawberries for a
vitamin-packed start to the day.
●
Using brown rice instead of white is an easy
way to boost your daily fiber intake and get
some extra potassium and magnesium in
your diet.
●
Iceberg lettuce may be low in calories,
but it is also low in nutrients. For a
healthier choice in your salad,
opt for nutrient-rich greens, such as
spinach, watercress or arugula.
●
Resist the urge to add salt to your food.
Consider healthy substitutions such as
balsamic vinegar, herbs or spices.
●
Forego fruit-flavored yogurts—
and their added sugars. Instead
reach for a bowl of plain yogurt,
and add a sprinkling of nuts and
dried or fresh fruit.
Reconstructing
Recipes
Become a
Volunteer!
The Gift Shop is staffed
by the ValleyCare
Auxiliary. If you would
like to join this team
of dedicated women
and men, please visit
valleycare.com/
auxiliary
or call the
Auxiliary information
line at
925-734-3368
.
Sweet Treats
for
Your Sweetheart
GIFT SHOP HOURS
♥ 
♥
Monday: 1 to 4 pm
♥ 
♥
Tuesday and Thursday:
9 am to 4 pm
♥ 
♥
Wednesday and Friday:
9 am to 6 pm
♥ 
♥
Saturday and Sunday:
11 am to 3 pm
ValleyCare Medical Center
5555 Las Positas Blvd.
Pleasanton
925-416-3401
WithValentine's Day just around the corner, the
ValleyCare Gift Shop, located in the lobby of ValleyCare
Medical Center, has everything you need for your sweetheart—
from See's Candy, jewelry, handbags and scarves to stuffed
animals and fun, inspirational gifts—andmuch, muchmore!
Stop by today to shop for your special Valentine!
The Gift Shop is open to the public. By shopping here you
are supporting the programs and services at ValleyCare Health System.